Penguin Teacher (ペンギン先生 Penguin Sensei?)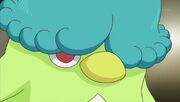 Voiced by: Kenta Miyake He is a teacher at Pretty Top (a penguin). He is actually the best teacher in the Dance school by Pretty Top. He was the first to give Aira and Rizumu lessons. He usually gets really angry when Aira calls him a stuffed animal which causes her to change her sentence. He sits on top of Yamada's Shoulders. He is very awkward in Aira, Rizumu and Mion's eyes. The hair on his head is actually not real. Throughout the series he is acting feminime.
Ad blocker interference detected!
Wikia is a free-to-use site that makes money from advertising. We have a modified experience for viewers using ad blockers

Wikia is not accessible if you've made further modifications. Remove the custom ad blocker rule(s) and the page will load as expected.